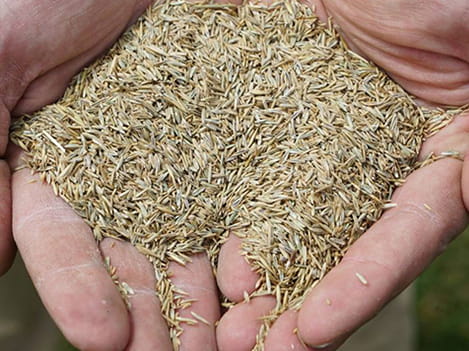 Your Weed Man Roswell professional can help you determine where and when your lawn could benefit from overseeding new seedlings into existing turf to promote overall turf health and development. They can also tell you if a more detailed turf renovation job is needed in order to replace old, worn-out grass with a more tolerant variety.
Newly seeded lawns need to be watered daily to keep seeded areas moist. This is a must for maximum results. Results can also be improved by combining Overseeding with a Top Dressing service.
Watering is the biggest component of getting your seed to germinate, as seeds require up to 4 weeks of daily watering ensuring that they stay moist. If the seed dries out at any time after you have started watering it, it will die. Some tips for seeding include:


• The best time to seed is in the fall when the soil temperatures are warm and nights are cooler
• Soil temperatures must be above 55 degrees F in order for the seed to germinate
• Combining Overseeding with Mechanical Core Aeration or Top Dressing service will ensure the seed makes contact with the soil, which is essential for successful grass growth
• Water daily for 15 - 20 minutes in order to keep the seed moist, especially if there is no supplemental water from natural rainfall
Have questions? Consult with your local Weed Man Roswell professional who will properly assess your lawn and provide you with customized recommendations.